Eye Clinic
Eye Clinic provides comprehensive and quality ophthalmic services to patients with eye problems such as cataracts, retinal detachment etc. Our services include detailed eye examination, medical consultation, chalazion incision and laser treatment.
Location: Clinic F, G/F, Tower A
Service hours:
| | |
| --- | --- |
| Monday - Friday | 9:00 am – 6:00 pm |
| Saturday | 9:00 am – 1:00 pm |
| Sunday and public holiday | closed |
Consultation Fee:
Initial: HK$900
Follow Up: HK$750
Remarks: The above charges refer to consultation fees only and exclude fees for minor procedures, medication, laboratory service, etc. The total charge is subject to the attending doctor's discretion and depends on the patient's condition. Details on ancillary charges are available at the Cashier.
Children Myopia Care Plan
(click here to enlarge the image)
Special offer for Anti-VEGF therapy patients: HK$7,700 up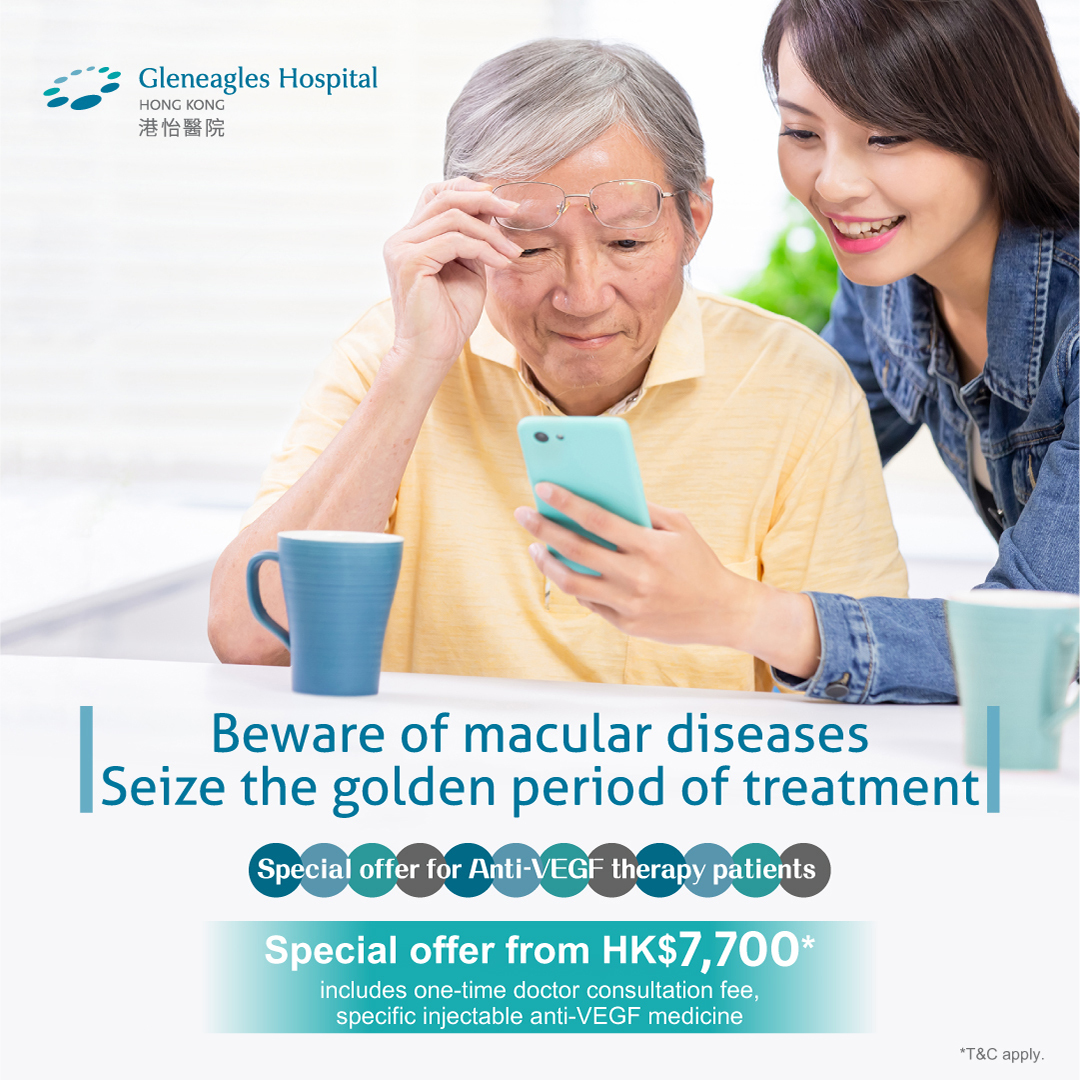 Anti-VEGF therapy is a common treatment modality for some macular diseases. Timely injection regimen is vital for the success of the treatment. Eligible patients can now enjoy a special offer for Anti-VEGF therapy.
Below are the eligible patients who can enjoy the offer:
Public hospital eye clinic patients with a valid referral letter for anti-VEGF therapy; or
Patients referred from Hong Kong Health Care Alliance; or
Gleneagles' current patients / new cases with specific eye diseases including wet age-related macular degeneration, diabetic macula edema, retinal vein occlusion and choroidal neovascularisation
The special package includes one-time doctor consultation fee, specific injectable anti-VEGF medicine, and hospital procedure charge. For enquiries / appointment, please contact our Eye Clinic at +852 3153 9068.
Terms and conditions:
This offer is on a first come, first served basis, and valid from 1 January to 31 December 2022;
This offer only applies to specific injectable anti-VEGF medicine;
This offer cannot be used in conjunction with other promotional offers;
Gleneagles Hospital Hong Kong reserves the right to amend any of the above terms and conditions without prior notice. In case of any dispute, Gleneagles' decision is final.
Vision Care Plan (by Optometrist)
Service includes:

• Case history
• Visual acuity
• Refraction
• Binocular vision
• Color vision
• Intra-ocular pressure
• Fundus photo taking OR cycloplegic refraction (Either one, depending on individual case)
• Provision of information related to eye care
• Suggestion for follow-up plan


Price: HK$320

Service upgrade for Vision Care Plan client (by Ophthalmologist)
Service includes:
• Interpretation of Vision Care Plan examination result
• External and fundal examination
• Diagnosis and recommendation by Ophthalmologist


Additional Price: HK$580

Our Specialists Dr WONG Wing Yee Victoria
黃穎兒 醫生
Titles at GHK
Clinical Associate Professor, School of Clinical Medicine, Li Ka Shing Faculty of Medicine, The University of Hong Kong