COVID-19 Test (Deep Throat Saliva Test)
We regret to advise that the quota of COVID-19 tests for 5 August (Wednesday) has been filled.

Online booking for 6 August (Thursday) can be made from 2:00pm on 5 August (Wednesday). Please note that phone booking has been discontinued and replaced by online booking.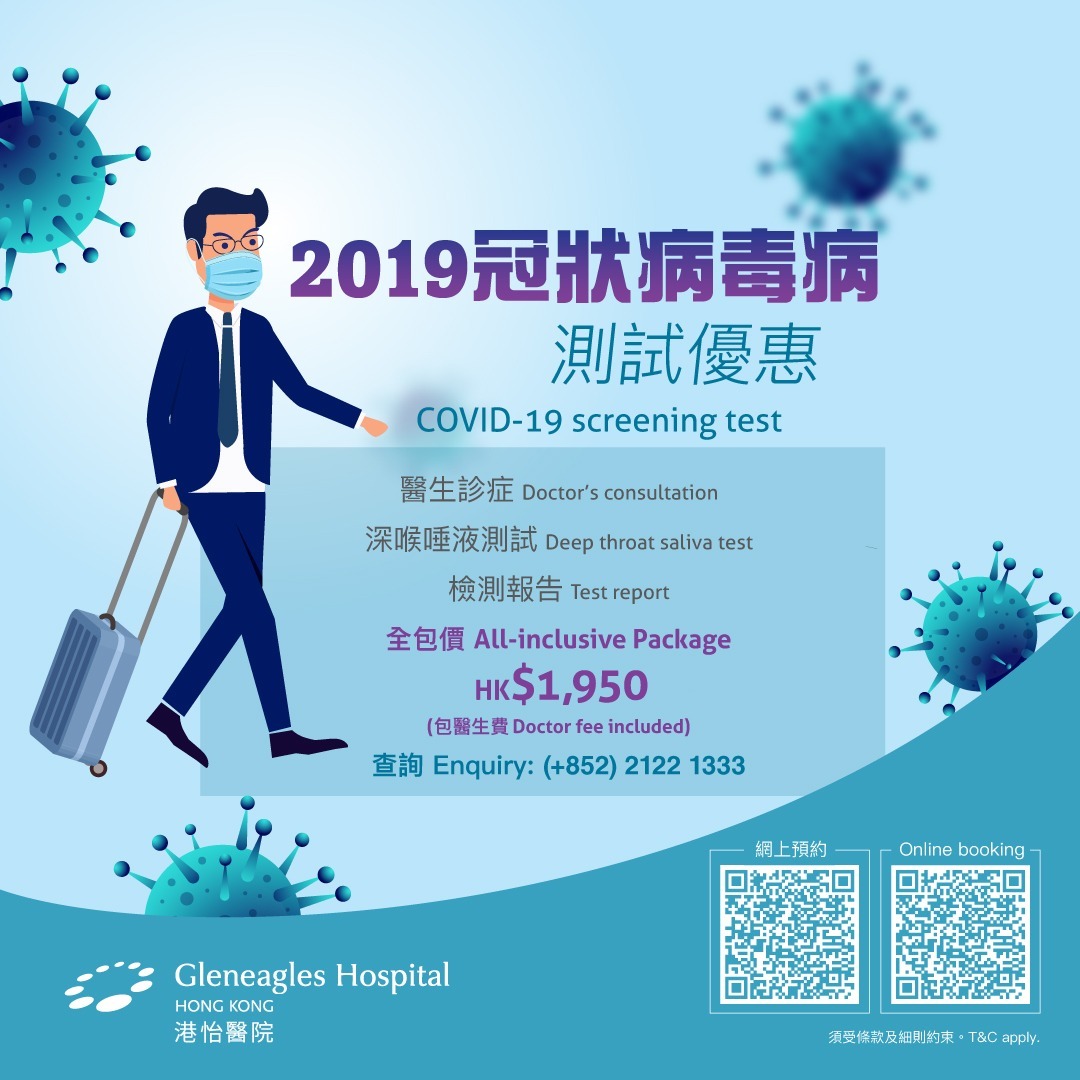 Important Points to Note Before Coming to Hospital:
Please arrive 30 mins before the booking time for registration in 24-hours Outpatient & Emergency Department;

Do NOT brush your teeth, eat or drink after getting up;

Empty your stomach for at least 6 hours;

Bring along your HKID card, passport or any travelling document for registration;

Ensure that you have NO fever or any signs of upper respiratory tract infection.

Please click here to learn more about the steps of deep throat saliva specimen collection.

For specimen drop-offs before 12noon on Monday to Saturday*, reports will be available after 11am on the next day of specimen submission at the front desk of our main lobby on G/F.
*excluding public holidays

To authorise someone to collect the report on patient's behalf, the authorisee has to bring along a copy of the authoriser's HKID/Passport and the original copy of the authorisation letter. Please click here to download the authorisation letter template.
Terms & Conditions:
Gleneagles Hospital Hong Kong is a designated institution recognised by the HKSAR Government to provide COVID-19 test (SARS-CoV-2 nucleic acid test).

Gleneagles will report all eligible case to Centre for Health Protection in accordance to the statutory reporting mechanism. Patients will then be referred to public hospital for further examination and follow-up.

Package is offered to self-pay patients only. Offer cannot be applied to direct billing or insurance claims.

The offer cannot be used in conjunction with other promotional offers.

Gleneagles Hospital Hong Kong reserves the right to amend any of the above terms and conditions without prior notice. In case of any dispute, Gleneagles' decision is final.
Online Booking
Please click here to access to our booking system.